Python, Pydev and Eclipse. This article describes how to write and debug Python programs with Eclipse This article is based on Eclipse 4.3, Python 3.3.1 and PyDev version 2.7.3.
Python is an interpreted programming language and claims to be a very effective programming language. Python was develop by Guido van Rossum.
The name Python is based on the TV show called Monty Python's Flying Circus. During execution the Python source code is translated into bytecode which is then interpreted by the Python interpreter. Python source code can also run on the Java Virtual Machine, in this case you are using Jython.
Key features of Python are:
high-level data types, as for example extensible lists

statement grouping is done by indentation instead of brackets

variable or argument declaration is not necessary

supports for object-orientated, procedural and functional programming style
Python identify blocks of code by indentation. If you have an if statement and the next line is indented then it means that this indented block belongs to the if. The Python interpreter supports either spaces or tabs, e.g. you can not mix both. The most "pythonic" way is to use 4 spaces per indentation level.
This tutorial will first explain how to install Python and the Python plugins for Eclipse. It will then create a small Python project to show the usage of the plugin. Afterwards the general constructs of Python are explained.
Download Python from http://www.python.org. Download the version 3.3.1 or higher of Python. If you are using Windows you can use the native installer for Python.
The following assume that you have already Eclipse installed. For an installation description of Eclipse please see Eclipse IDE for Java.
For Python development under Eclipse you can use the PyDev Plugin which is an open source project. Install PyDev via the Eclipse update manager via the following update site: http://pydev.org/updates.
You also have to maintain in Eclipse the location of your Python installation. Open in the Window  Preference  Pydev  Interpreter Python menu.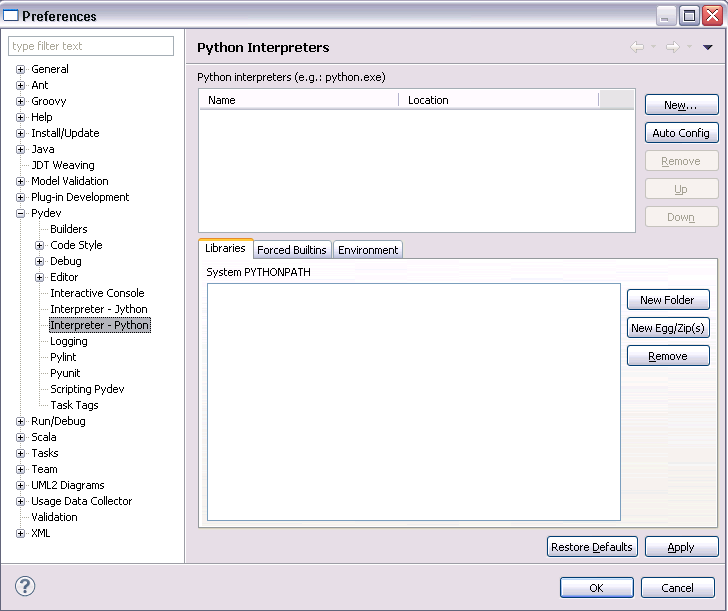 Press the New button and enter the path to python.exe in your Python installation directory. For Linux and Mac OS X users this is normally /usr/bin/python.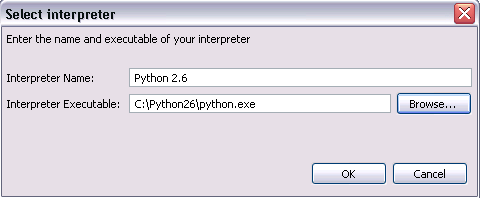 | | |
| --- | --- |
| | Note that on MAC OS X the python libraries are not installed by default. Please use Google to find out, how to install them on a Mac OS X system, the author of this text only uses Linux. |
The result should look like the following.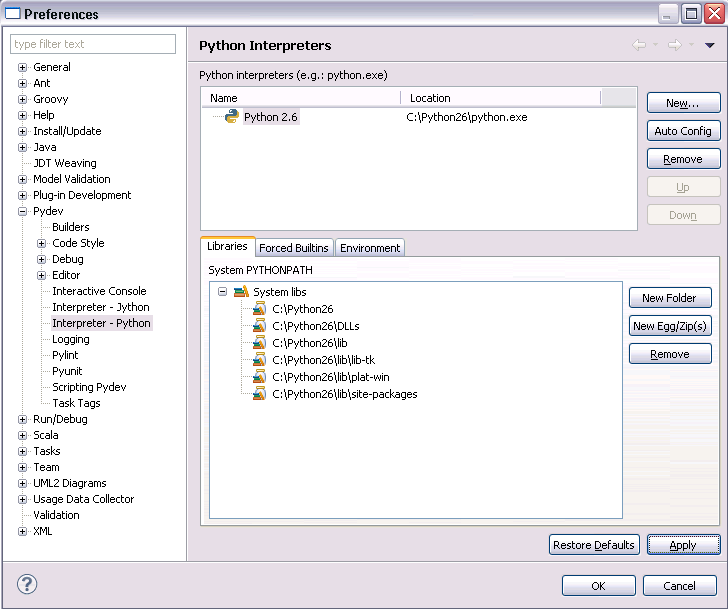 Select File  New  Project. Select Pydev → Pydev Project.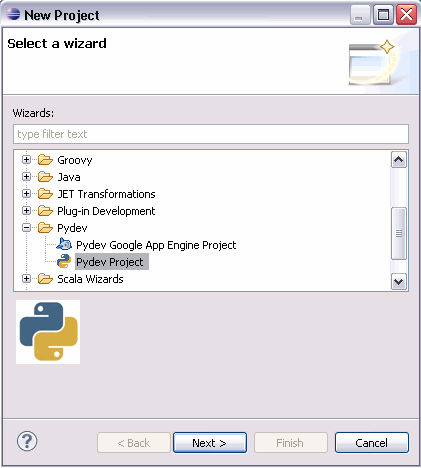 Create a new project with the name "de.vogella.python.first". Select Python version 2.6 and your interpreter.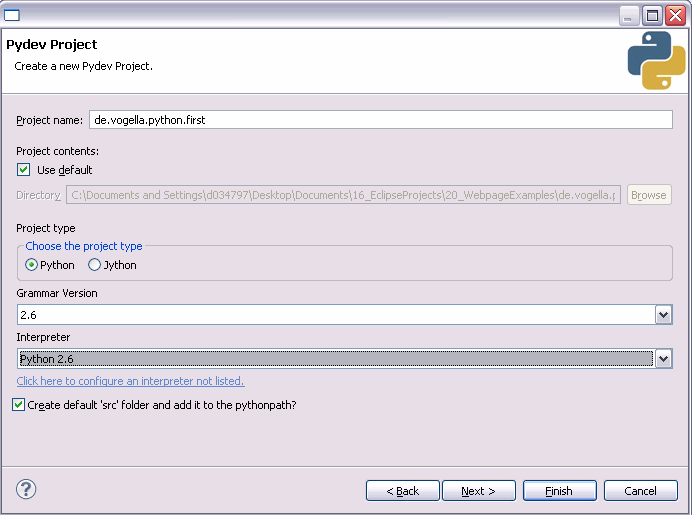 Select Window  Open Perspective  Other. Select the PyDev perspective.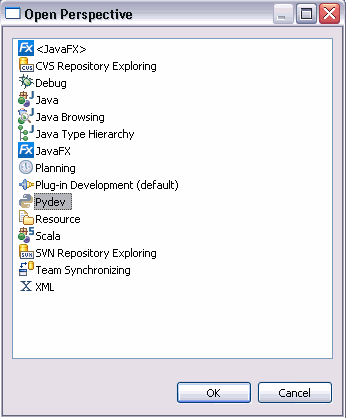 Select the "src" folder of your project, right-click it and select New → PyDev Modul. Create a module "FirstModule".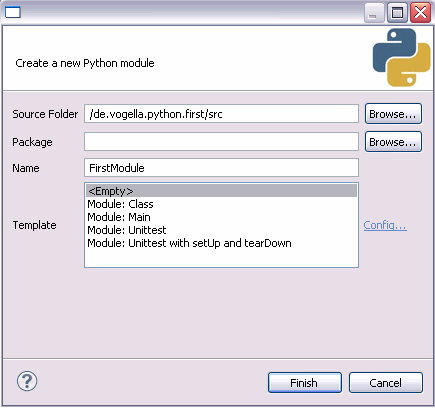 Create the following source code.
'''
Created on 18.06.2009

@author: Lars Vogel
'''




def

 

add

(

a

,

b

):


    

return

 

a

+

b





def

 

addFixedValue

(

a

):


    

y

 

=

 

5


    

return

 

y

 

+

a





print

 

add

(

1

,

2

)




print

 

addFixedValue

(

1

)
Right-click your model and select Run As → Python run.

Congratulations! You created your first (little) Python modul and ran it!
Just right-click in the source code and add a breakpoint.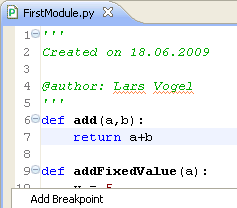 Then select Debug as → Python Run

You can now inspect and modify the variables in the variables view.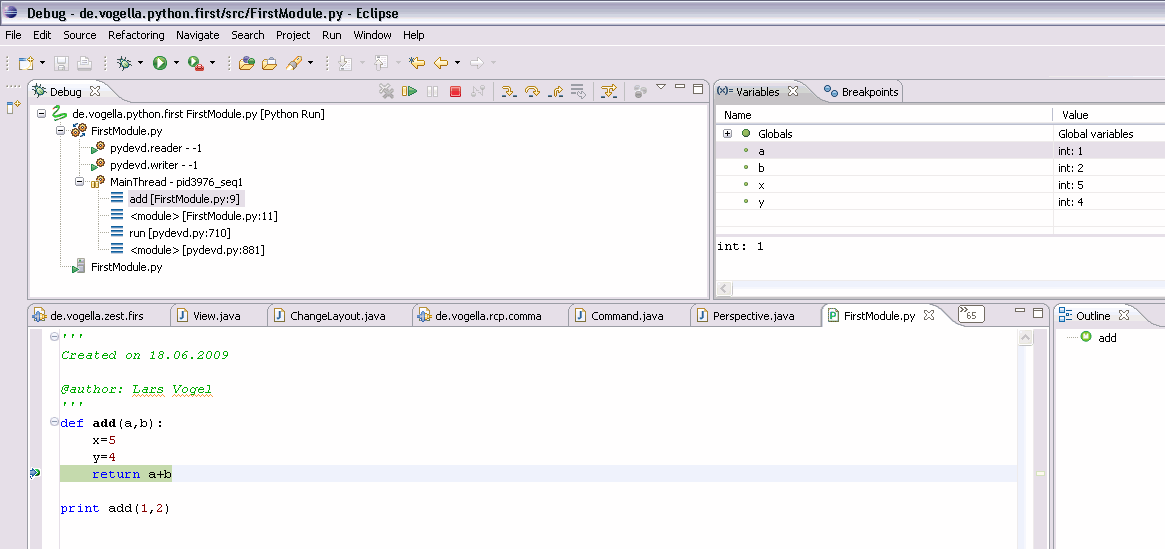 Via the debug buttons (or shortcuts F5, F6, F7, F8) you can move in your program.
You can use F5 / F6, F7 and F8 to step through your coding.
Table 1. Debugging Key bindings

| Command | Description |
| --- | --- |
| F5 | Goes to the next step in your program. If the next step is a method / function this command will jump into the associated code. |
| F6 | F6 will step over the call, e.g. it will call a method / function without entering the associated code. |
| F7 | F7 will go to the caller of the method/ function. So this will leave the current code and go to the calling code. |
| F8 | Use F8 to go to the next breakpoint. If no further breakpoint is encountered then the program will normally run. |
You can of course use the ui to debug. The following displays the key bindings for the debug buttons.