Jacoco. This tutorial describes the usage of the Jacoco, which can be used to check the code coverage of Java projects.
Jacoco is an open source project, which can be used to check production code for test code coverage. It creates reports and integrates well with IDEs like the Eclipse IDE. Integration is also available for other IDEs and continuous integration environments. So there are also Gradle, SonarQube and Jenkins plugins to make these code coverage checks outside the IDE and therefore globally available to the development team.
You can install Jacoco in the Eclipse IDE via the Eclipse Marketplace from Help  Eclipse Marketplace and search for EclEmma
Alternatively, use the Help  Install New Software…​ menu entry. EclEmma is part of the latest Eclipse release update side:
http://download.eclipse.org/releases/latest]
Install all software components from this update site and restart your Eclipse IDE afterwards.
With EclEmma installed the context menu of a project also contains a Coverage As entry.

And besides the debug button in the main toolbar will also be another button for running java code with code coverage analysis.

Once a program is run with code coverage a Coverage View will show up in the Eclipse IDE.

Usually the analysis shows up when the java application is shut down, but with the Dump Execution Data button in the Coverage View's toolbar a dump of execution data can be created.

The tooling does not only show the coverage in the Coverage View, but also in the Java Editor itself. Tested code is highlighted in green and untested code is highlighted in red.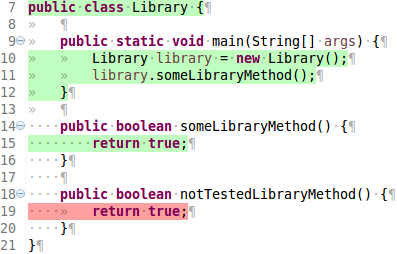 Using Jacoco in Gradle is straight forward. The jacoco plugin can be applied and by default places a report into $buildDir/reports/jacoco/test.
Jacoco can also be run during a Maven build. The results of the code coverage analysis can for example be reviewed as an HTML report, which usually can be found in the target/report folder of a built Maven project.